On-site first aid training is important for workplace safety and well-being. It creates a workplace with minimal injuries and reduced hazards as employees acquire the skills and knowledge that guard against disaster. Employees will be equipped to respond effectively in times of crisis. Their newfound abilities don't just save lives; they also sculpt a culture of safety where the well-being of each person is cherished. As the culture takes root, the organization's fabric transforms into a haven of security and preparedness.
Therefore, on-site first aid training breathes life into safety and infuses a work environment with resilience and knowledge. Investing in on-site first aid training demonstrates a commitment to employee welfare and nurturing a healthy, secure work environment. This article examines how on-site first aid training can make a difference in the workplace.
Rapid Response
In a company where on-site first aid training is the norm, employees will be calm and confident. They will act and use their knowledge and skills to provide immediate assistance. Life hangs in the balance with each passing moment, and the swift response becomes a lifeline. They assess the situation, apply appropriate techniques, and manage the critical moments before professional helps arrives.
So, On-site first aid training is more than just a box to check. It's an investment in preparedness that can save lives, prevent further injury, and turn chaos into organized action where every second counts. If the workplace experiences medical emergencies, panic will usually ensue, and people will scramble to figure out what to do.
Increased Safety Awareness
Through on-site first aid training, employees will have the awareness to spot potential hazards and take action to address the issue before it becomes a danger. It creates a culture where accidents and injuries are the exception, not the norm.
First aid training is not just about responding to emergencies but also about preventing them altogether. It instills a sense of responsibility in employees and equips them with the knowledge to identify and mitigate risk. This is important in transforming the workplace into a haven of safety.
You Can Read This Simler Article: Wegmans 
Confidence and Resilience
When individuals undergo first aid training, they are equipped with valuable skills needed to tackle life-or-death situations with composure and grace. Whenever chaos descends, and panic threatens to take hold, employees will rise about the turmoil thanks to their training.
With steady hands and clear minds, employees can administer critical care. They provide a lifeline to anyone experiencing an emergency until the arrival of medical professionals. These results in an immeasurable impact and can mean the difference between swift recovery and long-lasting consequences. With this confidence and unwavering determination, employees can meet workplace emergencies head-on.
Timely and Appropriate Care
Picture a workplace where help is never far away, where injured or ill individuals find solace in knowing that immediate care is within reach. With on-site first aid training, you will have trained personnel always on standby. They are armed with the knowledge and skills to provide Swift interventions. When an accident occurs, they spring into action with their expertise minimizing the impact of Injuries and easing pain.
When they have this preparedness, minor incidents will never spiral out of control. Their training will help whenever trouble arises, nipping potential disasters in the bud. With their quick access to fast aid, what could have been a catastrophe becomes a mere blip in the timeline of workplace safety.
Legal and Regulatory Compliance
With on-site first-aid training, an organization doesn't just meet legal obligations; they embrace them with open arms. Most jurisdictions demand designated first aiders and robust medical response protocols. As a result, the organization doesn't just check boxes; they create a culture of preparedness.
You get a workplace where employees are armed with life-saving knowledge, and safety is a priority and a way of life. By providing on-site first aid training, an organization can go above and beyond, ensuring that every worker has the skills to respond effectively in terms of need.
Team Cohesion
First aid training can become a catalyst for collaboration and camaraderie in the workplace. Employees are bound together by their shared knowledge and engage in immersive exercises, wegmans pharmacy's working as a team to conquer simulated emergencies. Through these experiences, employees forge a deeper understanding of each other's strengths and capabilities.
As a result, when a real crisis strikes, their seamless communication and synchronized efforts come to the forefront. Their united front ensures that every action is purposeful, every decision is sound, and every life is safeguarded. So on-site first aid training creates a world of collective empowerment that nurtures individual skills and collaboration. It sets the stage for extraordinary response efforts in the face of adversity.
Positive Work Culture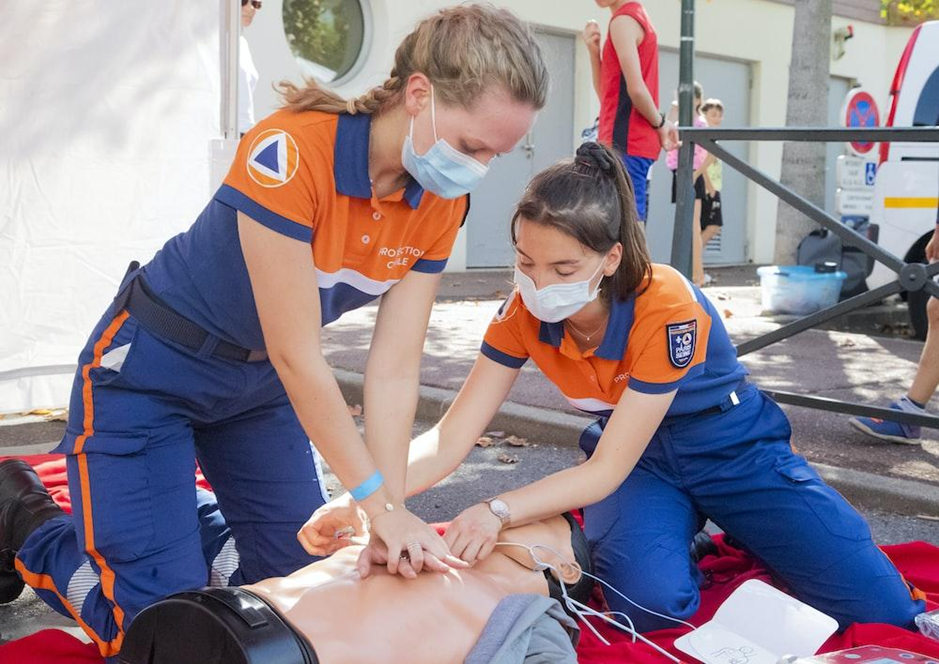 In a workplace where employees are more than cogs in a machine but treasured assets, their well-being will be held in the highest regard. On-site first aid training is a beacon of care shining a light on an organization's commitment to its workforce. For example, employees feel genuine value and support, knowing that the organization has invested in their safety and well-being.
As a result, morale soars to new heights, job satisfaction becomes tangible, and loyalty blossoms like never before. In this workplace utopia, the ripple effects of on-site first aid training are profound. A positive culture will permit the air, fostering an environment where employees feel valued, seen, heard, and protected.
In employee centricity, commitment to well-being creates a workplace where individuals thrive, organizations flourish, and their bond grows stronger with each passing day.
Bottom Line
When discussing workplace safety, on-site first aid training can help save lives and thwart chaos lurking in the shadows. With every skill learned and every knowledge acquired, it becomes a weapon against disaster. The on-site first aid creates a workplace where lives are not left to chance, injuries are minimized, and potential hazards are tamed. Employees become masters of their destiny, equipped with the power to respond swiftly and effectively in times of crisis.
Also, Read The Following:  accident attorney in stoneridge el paso tx